Anokhi in Hindi means a unique. It also means extraordinary.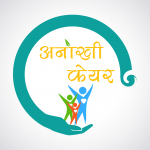 Anokhi's logo reflects sharing caring & serving in a unique way
Anokhi Manav Sansthan is a not-for-profit organization working with communities of the state of Madhya Pradesh, India in the districts of Mandsaur in the field of skills development, health & environment protection.
Since its establishment in 2016, Anokhi has designed and implemented various initiatives geared towards improving social indicators by working with communities. Anokhi has worked on programs related to children, young people, and women in the areas of health and education & environment protection.
Collaborators